(
Também disponível em Português!
)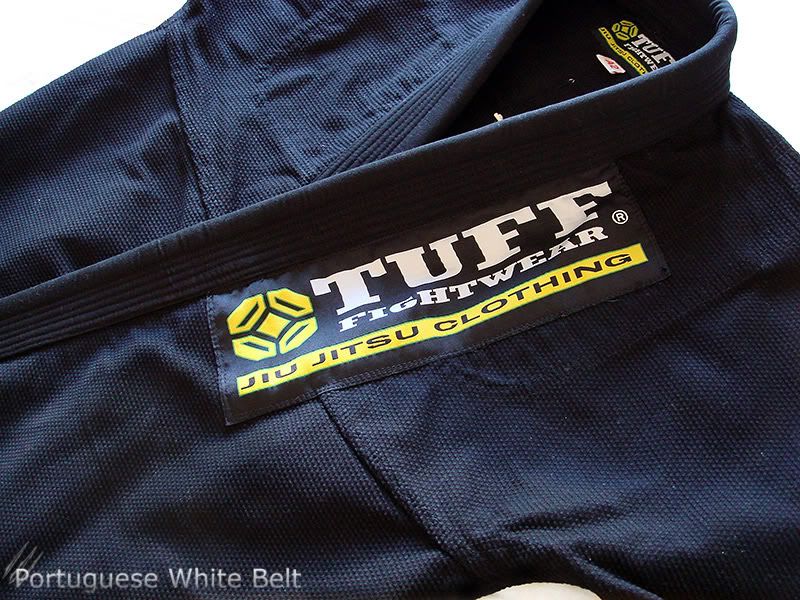 After some months using the
Blitz Lutador
and having joined
Marcão's ArtSuave
I felt the need to get a second (and third) gi. Besides quantity I was aiming at a cheap but quality gi which was fitted as a BJJ gi should be for a change.
Tuff is a british company who sell fightwear and their Lightweight Kimono (
gi
, actually) had caught my attention some months ago. They claim their gi is the lightest in the market and that it's tested extensively to withstand the rigors of training and the price seemed perfect for what I wanted.
First, I should say these are not my first and second Tuff gis. Initially I foolishly got A3s, conveniently forgetting that since the last time I got a gi, even keeping my 1.83m/6ft height, I had dropped from 90+ kilos to a mere and puny 77-Kg. The A3 size was therefore huge on me to the point where no washing temperature could shrink it to my size. As such I had to get A2s which are much more on the mark. Also, I had planned to get a white and a blue gi, but then when the order arrived a friend preferred keeping the blue and to my surprise I actually quite liked the black version so I decided to keep it as my non-white gi.
Reviewing both a White and a Black gi of the same brand, model and size should be interesting as it's known that there will be differences such as weight. Remains to be seen how relevant the color is besides style. So let's go!
The jacket is a one-piece made of single weave. There are appropriate reinforcements on the skirt, armipts and the mandatory taped hem on the sleeve cuffs.
There is just one patch on the chest and embroidered Tuff logos below the shoulder while the trousers feature the same patch on the side of the left thigh. I prefer how the patch sits on the black and blue versions and think that a less contrasting patch would tastefully pimp the white version, but that's highly secondary and obviously takes nothing away from the quality of the product.
The collar is adequately thick and somehow stiff in the beginning, breaking in and becoming more comfortable after a couple of washes.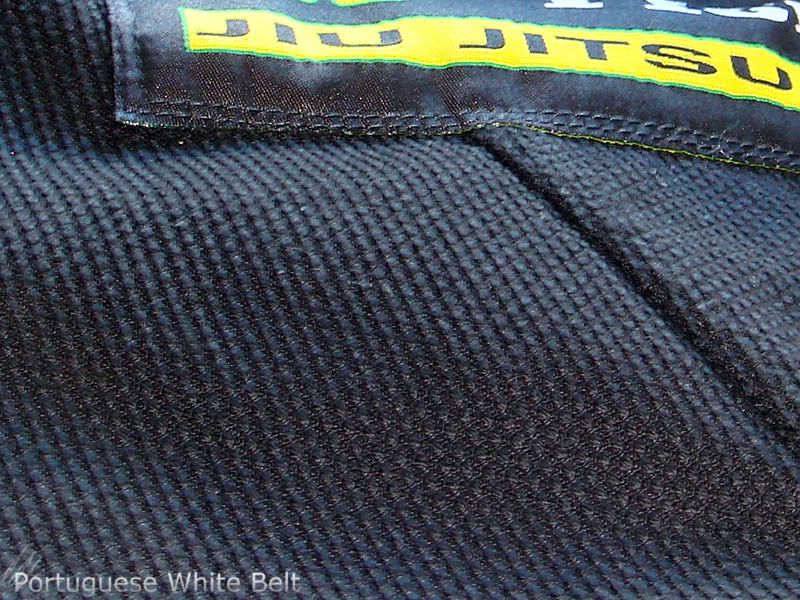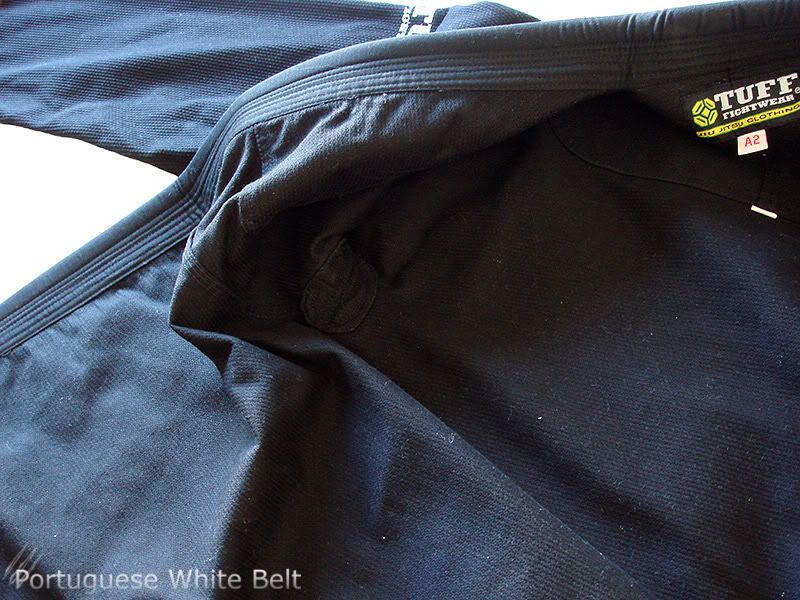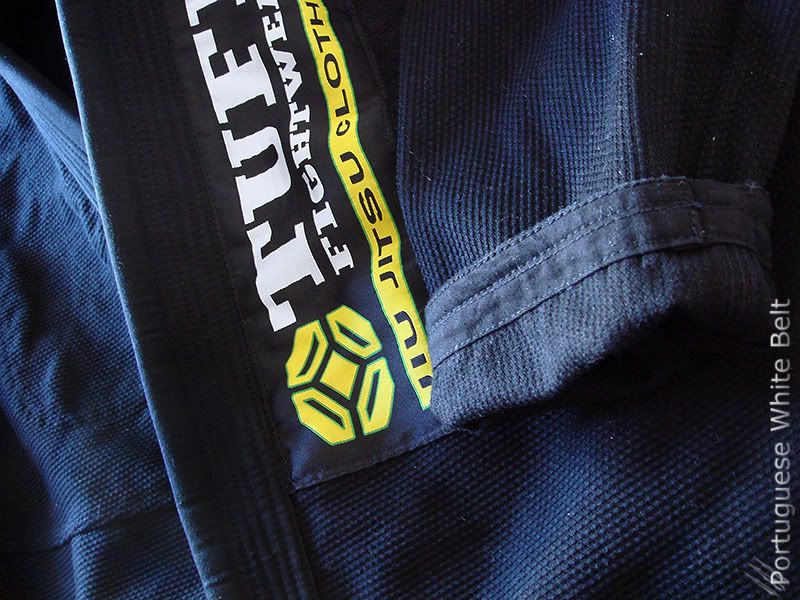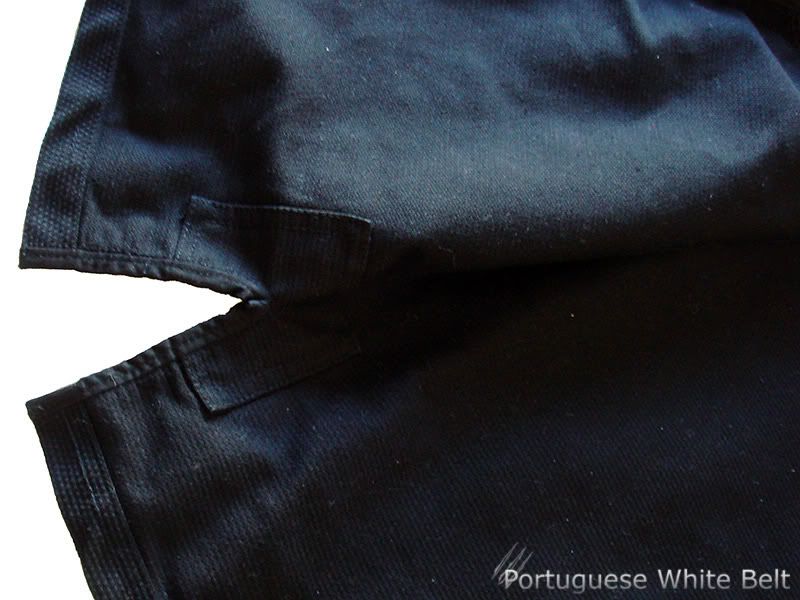 The trousers are made of cotton twill, reinforced above and bellow knee height as well as inside the crotch area and featuring a very nice rope cord (which I much prefer to the alternative flat drawstrings).
On the down side, they have only two cord loops which are placed way too close to the center and may cause the cord to ride up the waist.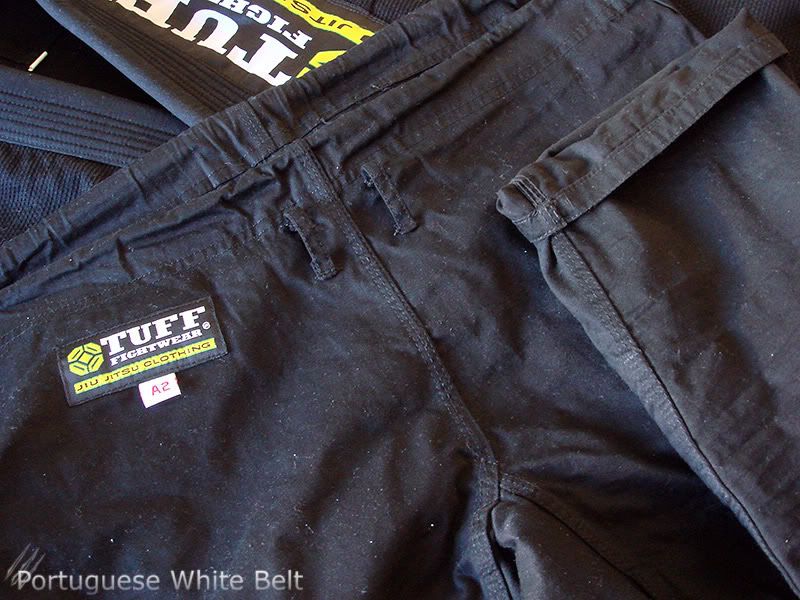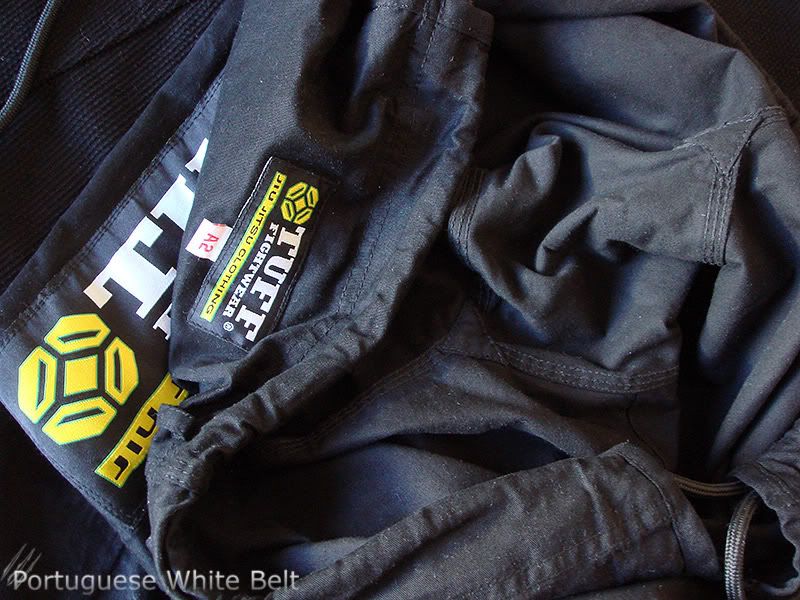 . Gi by the numbers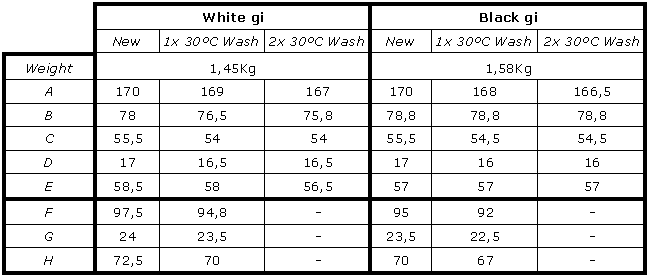 (all in centimeters)
As you may notice, besides the weight difference, there are also some difference in the measures of the White vs. Black gi. I suspect that's also because of the dyeing process on the black version which probably involves warm water and whatnot. For reference, a White A3 weighs 1.62Kg and a Black A3 weighs 1.72Kg.
So, off the bag, A2 was just a few centimeters too long and wide for me. For the pants, one 30ºC wash hang dried was enough to make them fit me and for the jacket, a couple of 30ºC washes took care of that too and now it's pretty fine. I don't want it to shrink more because I plan on regaining some lean mass and that'll probably fill the extra space around my torso and legs.
. First thoughts
First thing I noticed is how light the whole gi feels, which shouldn't surprise me as it's more than half a kilo lighter than my other gi. The jacket feels sturdy enough, with a tendency to stiffen a wee bit after washing until it's broken in after a bit of using. This is something that is usually less noticeable with gold weaves.
The trousers feel comfortable but a bit thinner than expected, especially those of the white gi. That's probably the effect of the extra molecules on the cotton, the result of the dyeing process which also reflects on the overall weight as expected. Having thinner pants is probably the price to pay for having such a lightweight gi and as long as they stand the test of time I think it's a fair trade.
The lack of extra cord loops has allowed the cord to ride up my waist a couple of times too many and I plan on getting some white and black twill and getting it stitched where the extra loops should have been from the start so that this is corrected. In my opinion trousers should always have at least 4 cord loops evenly placed.
In a couple of months I'll update the review regarding this matter and also some medium-long term conclusions about wearing (but hopefully not tearing) the gis.
. In conclusion
I believe the Tuff Lightweight Kimono is a great product, especially for the price and aside from the thinness of the pants (being as light can't come without some sort of compromise) which so far hasn't been a problem and the lack of more cord loops I can't spot faults.
I guess what I want as a perfect gi is something thicker and stronger but at this same weight and maybe,
someday
, it'll be possible. For now one has to make a compromise and as far as lightweight is concerned, this gi is a surely a strong contender.
If nothing else it is a great choice for those looking for a lightweight gi to compete and especially if one is hard pressed to lose that extra kilo that a regular gi will weigh.
It's Black, It's White
It's tough for you to get by (Yeah yeah yeah)
It's Black, It's White (Whoo!)
. More
Clique
aqui
para ler esta análise em Português.
. Note
I am not endorsed by
Tuff Fightwear
nor was I paid to review these products. These are my personal views and opinions and they apply only to the products I tested.