Howdy boys.
Had been practicing BJJ for a couple of weeks when I got this, my first BJJ Gi.
I had no experience whatsoever with other BJJ Gis (only Karate Gis) and wanted something affordable (not much more expensive than a cheap Judo Gi) but with good enough quality to get started.
So, on to the review.
I'm 1.83m (6ft flat) and 90~91Kg, but I'm about to cut for summer down to 8% BF or less so I plan on dropping to 85 or less kg depending on how it goes.
I got both Gis in size "5/180" (their size chart says «5/180 - 180cm - 5"10'~6"00'») and despite supposedly being on the upper limit, before washing it was too big for me. Trousers sometimes got stuck on my ankles while rolling/standing and sleeves reached a bit of my palms even with my arms extended in front of me.
As I have no idea how much it'll shrink I'll start with a 30º wash plus hang dry. Will repeat (or even go up in temperature) if needed.
Quality is pretty damn good for the price. Couldn't spot any defects. Collar is THICK! Too thick probably... sometimes while stretching it gets uncomfortable but didn't mind it while rolling and I think it'll be much harder to collar-choke me.
Size 5/180
Weight: 1.97Kg
Measurements in centimeters, before and after one 30º wash (hang dry):
Arm length from collar/shoulder: 75 / 73.5
Arm length from armpit: 54 / 50.5
Jacket length: 85.5 / 84
Sleeve width: 23 / 20.5
Inside trouser leg: 87.5 / 81
Outside trouser leg: 105.7 / 103.5
Thigh width @ crotch: 32 / 32
Ankle width: 29 / 27.5
Assorted pics:
package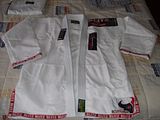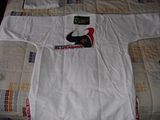 jacket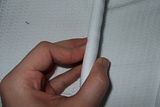 collar detail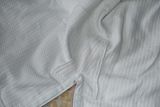 jacket's skirt reinforcements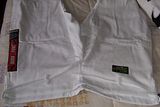 pants
inside leg reinforcements
After one wash the Gi fitted me much better and after another one it was even better. After the second 30ºC wash I only washed it on cold water and there was no further shrinkage.
For my personal fit I would like the sleeves and trousers to be a bit narrower, but for those looking for a fit somewhere between slim BJJ Gis and regular Judogi, this is close to perfect. Taking the price into account, there is nothing at this level to compete with. A gold-weave with this quality for ~50€ is a steal.
Website:
Adult Lutador Brazilian Jujitsu Suit