Brazilian Jiu-Jitsu here in Ovar is over.
Paulinho moved with his family closer to (O)Porto so he isn't able to continue teaching here, which is more than obviously understandable.
Still, our goodbye training had nice goodbye rolling and Paulinho managed to submit me in what seemed like every imaginable way. Three of the subs were new to me and I didn't even see them coming. Now I hopefully will.
At least me and Leo are very much interested in commuting to Porto twice or thrice a week to train at Marcão's
ArtSuave
starting as soon as possible - which is pretty much the only choice we consider as long as we're driving up to Porto. Would be cool if two more guys would join us.
Hope the more things change, they more they'll stay the same. Or better, preferably.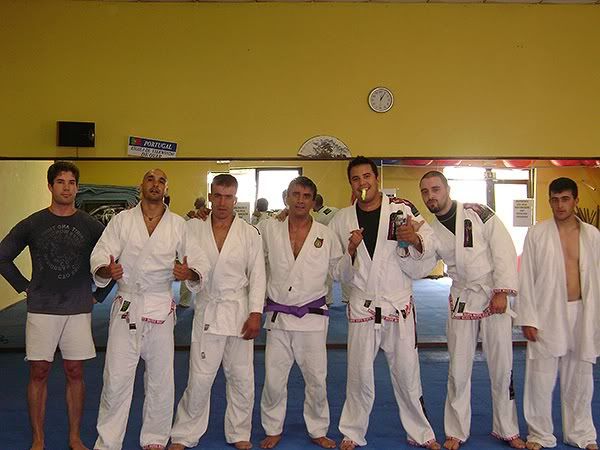 Le BJJ est mort, vive le BJJ!
In other 'news':
Bought an Everlast gumshield/mouth guard of the boil and bite kind and it sucks. No matter how much I tried it won't adapt to my teeth and will fall whenever I open my mouth. Granted, my upper maxilla isn't the most gumshield-friendly in the world, but hell.
Worse, it cut the inside of my cheeks every time I rolled with it without me getting hit. If we do continue training, I'll be buying a nifty custom made one. The only thing it'll have in common with this one is it'll also be

pink

. God I like the look and thought of opening my mouth and showing something

pink

while keeping a serious look. Maybe I'll throw a wink or two while I'm at it. Anyhoo, if I order one, I'll surely tell everyone everything about it here.
Strikeforce: Fedor vs. Werdum is tonight and UFC 116 - Lesnar vs. Carwin is in a week. Should be interesting.